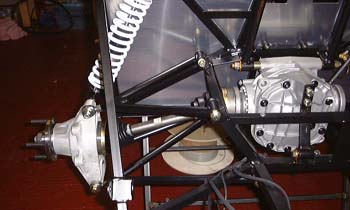 I had a good go at the driveshafts this evening. It started off by mounting the left hand stub axle and hub, and then assembling the driveshaft (what Westfield call a barshaft, which seems a slightly odd name to me). There are CV joints of the type referred to as Lobro joints at either end of the bar shaft. (What are/is Lobro? I thought it might be the manufacturer but mine were made by GKN.)
There was a bit of a problem working out which way round the joints went. On phoning Chris Masters it seems that the real giveaway is that you can only get the circlips in one way round. Pity it doesn't say that in the build manual.
The biggest problem was not having seventeen hands. I had real difficulty holding the shaft which had grease all over the place from the packed bearings at the same time as lining up the bolts at the same time as not allowing the joints to fall to bits. (I have this horror of having to chase up all the ball bearings again and work out how to put it back together.)
I'm pretty sure that it's best to dismantle the upright from the top wishbone before attaching the driveshaft to the stub axle, as otherwise it doesn't seem possible to get the shaft in. Finally, I managed it and it looks like the photo here.
One issue was the clamps on the rubber gaiters around the Lobro joints. They were real buggers to fit, I assume that real garages have some special tool for doing them up. At the end of it, they didn't exactly seem tight anyway.
One issue with all this is the hub nuts. These are big things, needing a 41 mm socket to tighten them, and are handed: left hand thread for the left of the car. The problem is the tightening torque is 250 lbf ft, which is way beyond the capacity of my torque wrench. What's more, my local tool hire place doesn't hire out torque wrenches due to the difficulty of calibrating them. Unless I think of anything better I'll have to do them up when the time comes--when the car is on the ground--by standing on a long spanner at the appropriate point.
The first thing to do is to probably phone around all the tool hire places, of which there are several.