Changed the broken gearbox mounting, which was almost absurdly easy, now I had figured out how to get a socket at it.
Fitted the accelerator cable, as one of the other parts I had had to get from Westfield was the pedal to cable attachment device, which had also been missing. This all means that all three pedals are now connected to something. Hence, I got in (a somewhat precarious activity due to the height of the car) and pressed them for a while. The clutch feels a bit odd. I suspect that it needs adjusting as I found it very hard to tell what was free play and what was actually doing something. Whilst in the car I tried to imagine how cramped it was going to be with the seats in, not very easily. I still think that I'm going to have to modify the pedals at some point.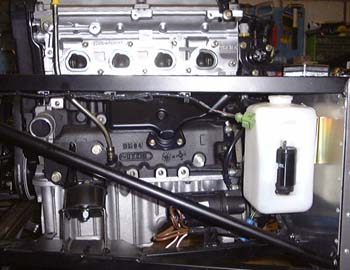 Fitted the washer bottle, which seems to me to be rather redundant on a car like this but still. The problem is, it looks very close to where the exhaust is going to go through the side of the car. I wonder if it's going to need some form of heatshield? There are comments in other build diaries on the web that this is really required.
This photo is looking straight through the side of the car, you can see the exhaust ports as well as the aforesaid plastic and very meltable washer bottle.
In fact I have a couple of other positioning worries about the engine. The first is that there is a breather pipe that comes out of the cam cover, and what I assume is a crankcase breather on the exhaust side of the engine. (You can also the the breather in this photo, just above the casting marks on the left side of the block.) I suspect the said pipe is supposed to connect to said breather, but there's nothing to confirm this anywhere.
Also, I have the ECU for the engine now, and I have no idea where it is supposed to be mounted. There is no indication at all in the manual. The notes that are inside the box (is an Alpha ignition only ECU) comments darkly that the magic box is not weather proof and must therefore not be in the engine compartment. The problem is, this seems to leave the collection of possible mounting places as a small round number. I will have to phone Westfield, again.
I did phone them again today (the parts department is open on a Saturday) to find out where the promised reversing light connector is and when the rest of the bits are going to be available. There doesn't seem to be much progress on either front yet.
Whatever, I think I will try and get some of the bodywork sorted tomorrow.