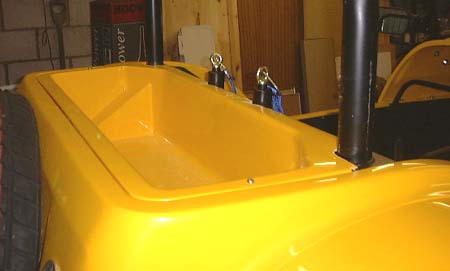 Finally, I got back to some GRP hacking (I was starting to have withdrawal symptoms) and fitted the boot box.
This entails a lot of the aforesaid hacking, all to get a box big enough to fill up with the hood. It's seems odd that there's so much of the GRP that has to be removed, for example all around the roll bar, as it could surely have been made closer to the right size.
I attached the box using some rivnuts that I mounted into the body, rather then the nuts and bolts mentioned in the manual. I reckon that by the time the box has been on and off 43 times this will have paid for itself. The problem is, it creaks like mad as a result of the GRP moving against itself. I'll have to try putting something bungy, such as some foam, under the edges of the box.
I think the only bit of bodywork left now is the sawing of the hole for the exhaust system. That could well be this week sometime.
I really need to be getting the SVA test booked. The problem is, as soon as I book it I'll be under a lot of pressure to finish things. Still, it's probably time to phone Westfield and find out what's the best thing to do this week.