Phoned Woolies and ordered some more velcro. As usual I probably rather over ordered so that I was sure that there would be enough. They phoned me back about three times saying that was I sure I really wanted this lot, and I repeatedly assured them that I really did.
When I got home the vinyl had arrived from Westfield. It certainly matches, and is about twice the price of essentially the same product in the Woolies catalogue. What's more the gaiters had arrived from Demon Tweeks. They are horrible and are going straight back.
After that I went into a bit of a decline.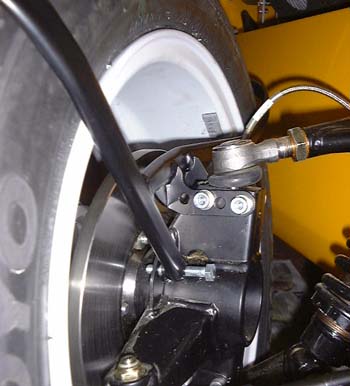 I decided that I would fit the front wings. A long time ago I mentioned to Chris Masters that the brackets didn't seem to line up properly with the hubs. (It was right back at the beginning of time when I was trying to work out what was going on with the hubs, before I realised I had the Westfield fabricated ones rather than the ex-Cortina ones.) Anyway, he assured me that everything would be fine. Well, I should have pressed him harder, I guess.
The cycle wing support brackets have two positions, an inner and outer one, where they will clamp around the hub. In addition to this clamp there is a small bush which looks like a bolt is supposed to go through it into the hub itself, where a hole has been provided for the purpose.
Anyway, nothing works.
This photo shows the support in the inner (nearest the centre of the car) position. You can see the other mounting holes and the additional bush at the bottom. (These pictures are thumbnails, you can click on them for a rather larger view.)
The bolt through the bush at the bottom is also through the hole in the hub. It nearly fits properly, but is not lined up correctly.