Well, it's time for the last race report of the season. We went off to Snetterton at the weekend and, rather amazingly, didn't get rained on. This means that every RGB race this year has been dry. Mind you, that doesn't apply to the qualifying sessions...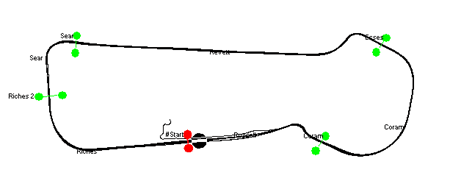 Saturday
I had signed up for the all-comers races on Saturday (2 x 30 min races) mainly to get some track time before the RGB race on Sunday. I must admit that the thought of a race that long was a bit daunting and I did wonder if I would get travel sick at the end of them. Seemed to work out OK though.
Qualifying was OK with no obvious problems and I posted a time of 1:22.45 for the first race and 22.96 for the second. Both of these are faster than my best previous race time (23.37 in qualifying at this meeting next year) at Snetterton so that's good. Out of the RGB class C contingent in the races I was 2nd, just behind John Goodwin who had got a 21.39. John's pretty quick so that seemed fine. Well, not fine but it would do.
The first race was pretty uneventful. I hung onto John for a few laps but he then got away somehow. I finished 12th, although the more important position was 2nd out of the RGB class C guys. Fastest lap was 1:22.23, faster than qualifying. Best bit was that I kept in front of Colin Chapman, something I've rarely done this season, although he did manage to post a faster lap than me.
One problem was that in the last couple of laps, when I was hoping that I'd manage to lap Neil Palmer, the single representative of RGB class B, the car started fluffing a bit in top gear on the Revett straight. At the end of the race I was lower on fuel than I've ever been before so I decided to put in a couple of litres more for the race. The Revett straight at Snetterton has a longer full throttle period than any other circuit in the country and I did wonder if the fuel system was just running out of puff somehow.
The second race was a bit more eventful. I got into a big battle with Phil Alcock which is a bit alarming. Phil writes the semi-official RGB race reports and this year I've always been quicker than him. (For example, at Cadwell I was about 3 seconds quicker in the race.) His car seemed to be jet propelled in this race and he could just pull away from me down the Revett straight. I know his car is a lot lighter than mine and I suspect it's a lot more aerodynamic so I guess that's it. Phil did go 2 seconds quicker in this race than the earlier one though which is one reason that he was such a surprise. His car was a real handful though. Through Coram I was flat in fourth and, as long as I got the line right, I just had a bit of understeer. Phil clearly had armfuls of oversteer though. In retrospect I should have been able to beat him into the chicane but I never managed to do it. Finally, I managed to get a decent exit from Sear and I was right behind Phil. This time I got a decent tow off him and I decided that I just had to outbrake him into the Esses and I could get away.
What's more I did it! I got a good distance away around Coram and I thought I was ahead for the duration. Then I got to Sear and spun. Ho hum... I always seem to cock something up when I get into the lead in a two car battle. I guess there's some sort of message there...
Still, I again beat Colin so the world was looking up. Hopefully it'd be dry for the RGB race tomorrow. Also, the fuel problem didn't re-appear so hopefully the 2 litres had fixed it.
Sunday
It rained overnight and the track was very slippy in the morning. Colin and I went for a walk round the circuit and it was very wet and unpleasant. Hopefully, it'd be OK by the time our qualifying came around.
When it did it was indeed a good deal dryer and reports from people in earlier sessions were that the circuit was close to completely dry. I ended up with a 21.46 which is nice and that means I'm now just about 2 seconds quicker than last year, in pretty similar conditions. Another 2 seconds and I'd be battling for the class lead. A likely story....
However, Colin was 0.26 quicker than me so we were side-by-side on the grid. Unfortunately, we were directly behind Steve Savage and John Cutmore who are notoriously difficult out on the track. (They're not unfair, just tough.)
In the All Comers races I'd got too much wheel spin on the line so I dropped the revs today and, when the lights went out, it promptly bogged down. All the same, I didn't lose out too much and I set off towards the first corner. As seems likely at Snetterton there were cars all over the place and apparently David Wale spun just behind me and sat there across the track waiting to be tee-boned. Luckily, he got away with it though. Past the Riches and down to Sear where I was greeted with Rob Baldwin sideways across the track. Somehow or other we all missed him and set off down the straight in a huge clump. There was an amazing amount of zooming around and picking up tows but we all got round the Esses OK and slowly things settled down. However, having outdragged Steve on the straight in a lap or so he got past me into Coram. Thereafter we swapped positions a few times, and probably slowed each other up. It was fairly easy to get past him but he tended to come back at me so quick that I lost the position again. I was rather surprised that I could out drag him on the straight almost with ease. In fact, the car seemed much faster on this day than the previous one according to the logs I was about 3mph faster than on the previous day. That doesn't sound much but down the length of the Revett straight (it went on for ages when we walked the circuit) that small difference mounts up.
However, eventually I put my vestigial stunted race brain into gear and worked out what to do. Again, I got a tow on the straight and easily pulled alongside him into the braking area for the Esses. This time, though, I took a nice wide line and forced Steve out somewhere he'd find it hard to get back from.
What's more it worked! He was behind and with any luck, as I seemed to have loads of speed down the straights today I thought I cound get away.
Then I spun at Sear!
There seems to be a pattern here. What an idiot. Steve was the only person to get past me when I did spin and that's the situation it ended in.
Oh well, it was a decent finish and I got some nice plaudits from some of the watching RGBers. (There had been a few retirements, including Colin who seemed to have cooked his clutch for the nth time this year.) I guess those retirements contributed to the fact that I was 7th in class which is my best result ever. However, it should have been 6th...
FL was a 21.46, exactly the same time as in qualifying. Mind you, the logger reckons the best lap was a 21.44 so I'm believing that for now.