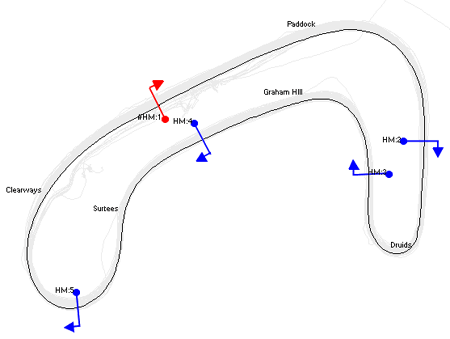 Well, for all those people who moaned at me about the lateness of my last update, here's one that's actually less than a week late! Nag, nag, nag...
Anyway, we were back to Brands Hatch again and this time the weather forecast was that it was going to be hot! I was going to say that that makes a nice change. However, as it turned out it was kind of my undoing. There were two races this weekend and in a way there's not too much to say as it was not too eventful. To be honest, I didn't really go anything like as well as I would have liked: I seem to have fallen off my perch somehow or other. What I need is some more testing time as I'm sort of levelling out to some extent.
Before this meeting my fastest time around Brands was a 54.7 which was the result of just about my only serious qualifying lap. Apart from that the only times of notes have been mid 55s which isn't anything to write home about. I guess it's true, though, that in general my times were about 1 second quicker than they were earlier in the year, although that could easily be because it was such warm day and the tyres were sticking better.
Anyway, we got to the circuit at about 1900 on Friday evening and grabbed a garage and set about setting the car up. We had to sign on at 0730 on the Saturday morning in order to make scrutineering at 0745. As we were in the garages we had the odd procedure of driving the race cars across the circuit, parking them in the scrutineering queue and then signing on. Kind of the wrong way round.
Anyway, that was largely uneventful and eventually, I got to the assembly area, trying to nab a place near the front of the queue as this was bound to be a frenetic process. For some reason they held us for ages in the assembly area and then in the pitlane.
Once out on the circuit it was indeed ridiculously frenetic. What's more it was already pretty hot and the circuit was very slippy. People who had been testing the day before (I couldn't get in) said that it had got slower through the day so presumably the same thing would happen today.
I essentially spent all of qualifying trying to find a decent lap. I didn't get a single clear one although it did get a bit clearer towards the end, probably because quite a few people had left the circuit. Adrian, for example, just wanted to get some sort of time, any sort of time, and then wait for the races.
In the event my FL was 54.83, with second best lap of 55.02. I just know that I could have gone much faster than this too. Mind you, the theoretical FL was just 54.43 so perhaps there wasn't too much in it. In retrospect I'm just too nice during qualifying, and during the races too, come to that, as I make sure I don't get in other people's way and end up not setting the sort of time I can do. I shall have to fix this...
After that we sat around in the sun, trying not to get too hot and waiting for the race time to come around. Eventually, we formed up on the grid in blazing sunshine and we were off! I got past Chris and Martin R at the start and then Martin braked later into Paddock than me, no surprise there, and I was blocked by Pete Rope who was, for the 875th time this season, spinning in front of me. I dropped back a bit but managed to get up the inside of Martin into Druids. Unfortunately, I couldn't completely get past him so we went around GH bend side by side.
At that point I must have lost track of my senses as I tried to go round Surtees at his side too, albeit at the speed I would have done on the line proper. Not surprisingly I ended up on the grass and had an interesting few moments trying to avoid hurtling back onto the black stuff in front of someone else. I nearly succeeded too, although contact was avoided.
After that I set to and had a fun time passing a few people and then got into a big dice with Chris Seaman who had by this time caught up again. We spent about 3 laps passing and repassing each other which was just fantastic fun until he dropped back, apparently with something wrong with his gearbox. Chris ought to be way quicker than me, he won this race back in April, so he was obviously being held up anyway. All the same, it was fun.
After that I just concentrated with catching up the people who had passed me earlier, with not too much success. I suspect that the reason for this was that the car was getting very hot and it's a known issue with blade engines that as they get hotter they produce less power. More worrying, perhaps, was that the oil temperature was up to about 130 degrees which was rather worrying.
So, during the interval I took off the ducting that I'd put on recently, as perhaps that was actually making things worse. In retrospect this was a really daft decision.
When the next race came around they had combined the class A and C races because some chap in one of the Austin 7 racers had rolled it and they took a long time extricating him from the wreckage. Apparently he's "a bit mangled" but fundamentally OK. That's good as I must admit that we were all fearing the worst.
I'm not sure how many readers have seen them, but there's no way on this earth I'd get into one of those Austin 7 racers. No roll cage, no seat belts and an alarming tendency to tip over because of the high CoG don't, to me, add up to much sense. However, if that's what people want to do then it's fine by me as the alternative is legislating any even vaguely risky activity out of existence.