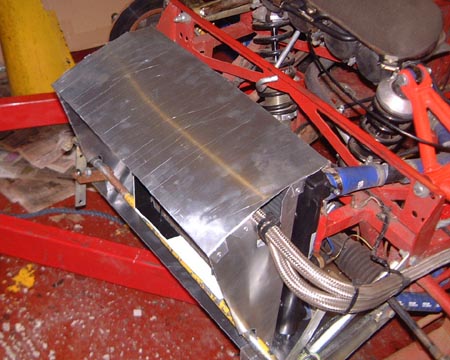 Hmm, lots and lots to talk about but it all leads up to an unfortunately end result. Before getting on to that particular horror story, I did actually get the car back together, although not without some alarums and excursions.
Before the Silverstone weekend I sorted out various bits on the car including fitting a new radiator and making some, hopefully more effective, ducting for the radiator.
There was a problem though in that Andy confirmed that my gearbox was indeed pretty much knackered. Luckily he had just bought a smashed up RRX engine that including a close to pristine gearbox so that was transferred to my engine in toto.
So, once I got the engine back I set about refitting it. Things went OK until I got to refitting the various sensors. At that point I must have been eating too much spinach because I manage to mangle both the oil temperature and oil pressure fittings. Luckily, I managed to get the spare bits I needed in time to get the engine properly fitted.
The last thing to do before going off to Silverstone was to spend a while carefully checking the suspension alignment, which was bound to be out after having had to raise the car at Pembrey to avoid the problems that we had there with illegal ride height. Eventually, though, it was all sorted and we set off for the most boring race circuit in the country... Of course, the newly sorted engine had only had the benefit of driving the car from the garage onto the drive before this, so who knew what was going to happen?
At the circuit we had some of the garages so I took the chance to check the suspension again, as the Silverstone garages have super-duper floors, probably something to do with those Formula 1 chappies. Everything seemed to be OK so hopefully qualifying would be OK. The big problem was that I hadn't done any testing and I was concerned that I'd have trouble in the few laps that are RGB qualifying.
As it turned out I was entirely correct. I spent much of qualifying just failing to get to grips with the circuit. The only corner where I felt the car was vaguely hooked up was Copse and sure enough, when I looked at the logs, that was the only place where I'd beaten my previous time. It had been clear that I was going way slower than I could around the rest of the circuit so perhaps the race would be better. I must admit that I'm just not assertive enough in qualifying. I kept catching up with people and not ruining their lap by overtaking them into a corner but allowing other people to ruin my laps in just the same way.