Well, we're back home again after the race weekend in Lydden. Essentially, I had a fantastic time. In fact, on the way home Anthea commented that it had been one of the best race weekends ever: great weather, great racing, great socialising.
We went down to Lydden on Friday evening, struggling with the inevitable weekend traffic around the M25. We got there at about 8pm and found the allocated spot in the paddock. For those that haven't been there, Lydden's essentially in a bowl and the paddock is down one side of the hill. Luckily, there are a few flatter spots where they've made a half-hearted attempt at terracing it. Mind you, they have provided some power points so in a way it's pretty good. You can see the terraces on the right of this aerial photo.

Saturday morning dawned bright and clear and a few of us went for a walk around the track. I didn't have much to do to the car as I was pretty much on top of things having put it on the trailer fully a week previously. The circuit was pretty much as I remembered, although it would be interesting to see how quickly I could drive it. Last time we were here was in 2005 when the best I managed was in the last lap of the second race when I managed a 47.64. If I remember correctly, qualifying was wet on that occasion. My fastest lap time having been 60.62 would tend to bear that out. Since then, though, I've done an awful lot to the car such as fitting the ATB.
So, after scrutineering was out of the way, very efficiently for a change, we lined up for qualifying. The classes were split for the Saturday race (although not, unfortunately, on Sunday) we were still going to have to qualify all together and my perennial ability to get blocked in qualifying might well have an effect. That did indeed prove to be the case and I was stuck for many laps (you get a lot of them for your time at Lydden) behind all sorts of people. Fastest lap was eventually a 46.18 which put me a measly 12th on the class C grid. Clearly, the start was going to be important... To put it in context that was still about 1.5 seconds faster than my fastest lap ever of the place but I still felt slow.

One thing I do remember from my early visits to the circuit I had great difficulty keeping my foot on the loud pedal into the dip just before Chesson's Drift. This time, this just wasn't an issue. Amazing how much effect experience makes. In this bit of the circuit the fastest I was going in 2005 was 96mph, and that was a pretty rare occurrance. During this visit the same figure was 103mph, a huge difference. That is, it might be taking ages but I am slowly getting faster as this game.. You can see the difference in the data logs here. The top graph is for throttle position and the bottom one is speed. The blue trace is my fastest time in this sector from 2005 and the other the fastest from this year. There's over a second's difference between those two sector times and you can see why as the black speed line is always above the blue one. You can also see that on the 2005 trace I backed off the throttle over a long period of time, whereas this year I've stayed on full throttle a lot longer, and I've then come off it smartly and onto the brake.
There had been a batch of yellows half way through qualifying when Buzz underdid his braking for the hairpin and rammed into the back of his fellow Genesis driver Steve. The latter's car was OK, or at least so we all thought, but the front end of Buzz's was pretty smashed up. The usual Genesis problem had appeared when he'd run off the circuit and the splitter was smashed to bits, as was the whole front section of the bodywork and the radiator.
Buzz admitted to a "novice error" and came back into the paddock with a sort of "going home" look on his face. He looked amazed when the rest of the paddock descended on his car and started fixing it back together. In particular honours must go to Andy Bates who Buzz had never really met before who did the lion's share of the job. Buzz wasn't going to make the Saturday race but he would make the Sunday one. Fully 10 litres of polyester resin and several square metres of CSM was consumed fixing his bodywork back together. After that our corner of the paddock stank of resin for a few hours... A big chunk of plywood cannibalised from I don't know where was used to remake a splitter and the struts that support the bodywork. I thought for a while that it might have been the base for someone's bed in their motorhome and fully expected a howl of protest at some point in the evening.
Finally, a vast quantity of silver gaffer tape was used to cover up the bodywork and some new sponsorship stickers were acquired and stuck on top of the gaffer tape. Buzz was, needless to say, astounded by the whole process.
Later in the day we got around to the class C race. We'd watched the class A/B race which had been OK-ish, although the track was a bit sparsely occupied and the best scraps were down the field. Best of all was Steve (class A genesis) and Paul (class B phoenix) who had a serious battle. As it was, Paul lost out to Steve by about a foot at the line. But, it turned out not to matter as they decided to check reversing mechanisms and both Steve and Paul failed and were therefore DQed. It turned out that Buzz's ramming of Steve's car had disturbed the reverse. The DQ was inevitable as they're much more serious about this issue now.
So, the class C race came around and we lined up. I was back on the left hand side of the 6th row and come the start got a decentish one. I noticed Colin trying to sneak through on the right and, I have to admit, blocked him fairly brutally. I also managed to get past Henry Carr in the melée around Chessons and got past Marc Nordon at the hairpin having been side-by-side with him all the way around the track to that point.
Things then cleared a bit and I set off after the people in front. Immediately in front of me was Alastair Boulton (new chap who used to race Stock Hatch and bought Tim Gray's car at the end of last season). I seemed to have the legs on him at a number of places and caught him up. After a lap of feinting back and forth I stuck it up the inside at the Devil's Elbow and was past. Someone said that they've got a good photo of me and Alastair side-by-side at that point on the circuit, with both cars sliding and crossed up. Fantastic stuff really. He had blocked me fairly firmly on a couple of occcasions but when I got a good run on him he was absolutely great.
After that I set off after the yellow car in front which was David Wale. I caught him and got him in much the same way so that I could set off after another yellow car in front of him, which was Matt Rowe. It was clear that Matt's rear tyres were pretty knackered as he was even more sideways than he usually is and I fancied my chances of getting past him, although he's usually a ferocious defender of his position. I guess at that point I must have been up to about 6th place and looking good for 5th. Although, to be fair, that should have been 6th as Derek had gone off in no uncertain terms at Chesson's early in the race. Mind you, he was probably knackered as he'd flown into Heathrow at about 7am that morning, from South Africa.
In the middle of all this I realised just how frenetic it was. At one point I looked at the timer on the dash to see how much more time there was to go and was rather alarmed to see that it said we'd done 6 minutes and 10 seconds; meaning that we were less than 50% of the time into the race...
A lap or so later I was right behind Matt and then he got all crossed up in Chesson's. I thought the worst was about to happen and kept out of the way which involved retiring to the grass and, in the process, David and Alastair got back past me. Rats... So, I set off again and again passed Alastair at the Elbow. By this time David had also passed Matt and I was closing in again on Matt. Up the hill to the hairpin and I seemed to have the run on him. Surely I'd get past him on the run onto Paddock?
Luckily, I saw the red flags before making a pillock of myself and slowed down and we were directed off the circuit... All the time that I'd been playing with Al and Matt, Henry and Marc had been dicing behind. According to spectators Marc was taking huge risks on the exit of Paddock going onto the grass at the end of the gravel trap, pretty much as he did in front of me at Donington around Coppice, although Lydden is a much less forgiving circuit than that. Eventually the inevitable happened and he lost it and slammed it into the barriers pretty hard. Henry told me that he did everything possible to get past as fast as he could as he could see the approaching cloud of debris from the accident. As it was it tore two corners off Marc's chassis and the chassis itself, from what I could see as it was trucked into the paddock, looked pretty sad.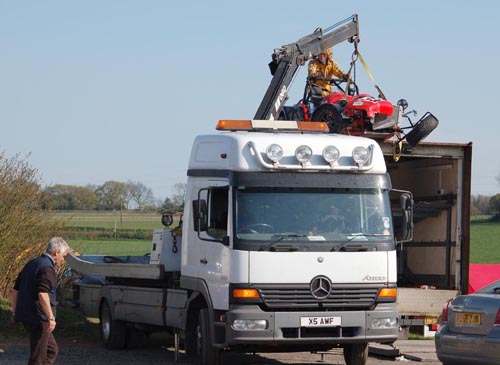 Then followed the oddest thing I've ever seen at a race circuit.
After the usual gassing in the paddock Marc's car was brought back in on the back of a recovery truck. Marc himself thankfully looked OK. The truck pulled up by Marc's race truck, which is a lorry with a tail-lift and proceeded to lift the car up onto the tail-list. Because of where the recovery truck was parked this involved lifting the car right over the top of Marc's truck. This looked so spectacular that I went and got my camera. As the car was going over the top of the truck one of the slings holding it up came loose and the whole car dropped onto the top of Marc's race truck. Here it is, parked on top of the race truck....
Marc climbed up on the top of the truck and re-attached some chains to the car and it was lifted down. There was, of course, quite a big crowd by now. Eventually, they got the car back inside the truck and went away. It's bound to take a while to fix it though. From what I saw as the car was coming back into the paddock replacing the whole chassis might be the best thing to do.
Anyway, back to the results. Although I'd had to take avoiding action to miss Matt I was pretty chuffed to have passed Alastair twice. However, when the results came out because of the count-back rule for red flags I actually finished behind him in 8th place! Needless to say he thought that was hilarious! I have to admit that I thought it was pretty funny too, which is perhaps a flaw in my makeup as a race driver. Still, that's 5 points, although it should have been at least 7 really. What was interesting was that I actually got the 3rd fastest lap at 45.44. Fastest of all was John Cutmore at 45.05. If I could stick at being just 0.8% slower than the fastest I'd be pretty happy...
On the Saturday evening we had an RGB BBQ and a great time was had by all.
It had been a hot day but once the sun went down it got pretty cold and we were all huddled around the fire at the end of the evening.
Sunday, though, dawned even hotter and looked like the race was going to be sweltering. So it turned out and we lined up, this time all 3 classes at about 3pm. This time we got a whole "brisk" lap of the circuit before lining up on the grid. I was just behind Paul and got a really good start and got right up the side of him before Chesson's. However, he was much later on the brakes than me and got in front of me. In the meantime Colin had got past and I spent a lap or so getting past him, eventually managing it when he ran a little wide at Paddock. Then I was up with Henry and Tim. From looking at the video I should have hung back a bit as we tripped over each other a bit too much. Eventually, though, both Henry and I got past Tim and I lined myself up on getting past Henry. A lap later and I got a run into Devil's elbow again. Henry's attempt at blocking me merely put him into a half spin and I easily got past him on the run up to the hairpin.
After that it calmed down really. Alastair was in front of me and I tried to haul him in but just couldn't manage it. Interestingly, unlike most of us, whose times were about 0.5 second slower on the Sunday, he did much the same time. I guess that's why I couldn't make headway. Come the end of the race and I saw Gordon coming up behind, I let him past and then we passed the last lap board. In front of me by then was Neil and I thought I might be able to lap him on the last lap. Problem is, everyone slowed down and the marshalls were all clapping. After some thought it dawned on me that we must have actually passed the chequered flag. Looking at my video it does indeed looks as though there's a last lap board and a chequered flag. The latter is rather obscured by the former though...
As trailed elsewhere, the problem with the race really was that everything was getting really, really, hot. I just have to look at the cooling again. Problem is, I'm managing to drive the car harder this season and it's generating more heat.
To add a final joker to the pack we got taken into post-race scutineering, which we'd missed on Saturday due to the red flag. Again, several people failed because their reverses didn't work. (Heaven knows why, you'd have thought everyone would have tested them after the problems on the previous
day.) That meant that two of the people in front of me in the class C race were DQed. Hence, I finished 5th on the timesheets.
So, the final result was 2 good races which were an 8th, which should at least have been a 7th and really something like a 5th; and 5th, which should really have been 7th...