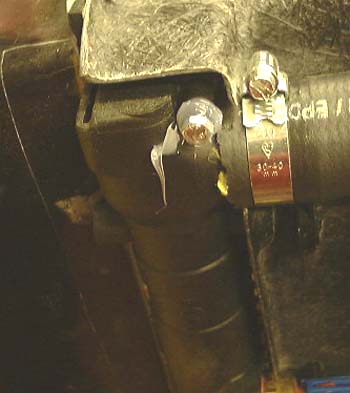 On Chris Masters' suggestion, I bunged up the hole by tapping an M5 thread into the plastic of the radiator and screwing in an M5 bolt with silicone sealant all over the place. I hope it will hold.
After that I had another go at bleeding the brakes. In order to, hopefully, improve things I had bought a pressure bleeder. (One of those things that forces brake fluid through system from the master cylinder under pressure.) Using this I managed to push about 1 litre of expensive DOT 5 fluid through the system without getting much in the way of bubbles out of it.
Unfortunately, the pedal's still very spongy though. Hence, I need to think of something else. I guess there's probably some air trapped somewhere, although I can't see where. I must admit that I hate messing around with brake fluid so I may just put up with it as it is for now and get a garage to bleed it as part of a pre-MOT before the SVA test.
There's still no word about an SVA date, although the insurers did phone today so something is moving on that front.