It was a wonderful sunny morning and we all set off for the kit car show at Stoneleigh after meeting up just outside Cambridge. The drive up was great and it was good to be waved in as a kit car driver. However, Tom and I spent ages trying to find the Westfields, which was rather bizarre as it must have been the largest collection of cars there.
The show itself was prettty much as we've come to expect: the bits and pieces stands were great, some of the cars were wonderful but the vast majority were gruesome.
Still, I've been thinking about another build for a while, and this crystallised everything, which you can read about here.
A number of us in Cambridge have been trying to organise a trip to a rolling road for a while, and today was finally it. Four of us trundled off to Wimpole to see a chap called Peter Baldwin who, apart from currently leading the Mini Miglia championship, is a Weber maestro. The four of us were Chris and William in their Tiger Cat E1s, Duncan in his Dax and our Westfield.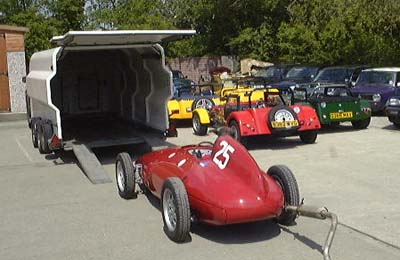 The first thing of interest when we got there was a gorgeous Maserati Formula Junior in the car park warming up the engine. Note the additional silencer in the photo and the gaggle of se7ens in the background.
We found out later that this car was off to Monaco the following day to take part in the historic Grand Prix this weekend.
After some delay we finally got on the rollers. This particular rolling road gives guesstimated flywheel bhp figures, something I think is very dubious considering what's actually being measured is the power being dissipated in a brake attached to the wheels. That is, various guesses are made about the transmission losses, and so on. However, the scores for the day were as follows:
Chris (Tiger cat 1.6 pinto single progressive twin choke Weber) 88 bhp at 5200 rpm; up from 60 bhp.
William (Tiger cat 2 litre pinto, twin DCOE 40s) 136 bhp at 5200 rpm; up from 110 bhp.
Us (Westfield 1.8 Zetec, twin DCOE 40s) 164 bhp at 6200 rpm; up from 155.
Duncan (Dax V8 Rover 3.9, Weber 500) 292 bhp at 5500 rpm (I think); up from 284.
In other words, a useful power gain, essentially gained from upping the sizes of the main jets in the carbs. On the drive home the car felt a little bit more urgeful, especially at the top end of the rev range. It was certainly an odd experience sitting in side a building with my foot flat on the floor and the speedo reading 105 mph.
Duncan's car made a huge noise, emitted large quantities of smoke, and generated huge amount of power. In the picture here the power meter at the bottom left is indicating 145 bhp. Wonderful until you realise that you have to double this figure...