August 11th
I did another Oakington track day a while ago and someone had pointed out a day that the WSCC (Westfield Sports Car Club) were organising at Cadwell Park. This is a real circuit, and therefore hopefully with a few less bumps. What's more, it has gradient (including something called the "mountain" so that should be fun.
What's more, Dean had suggested that we share my car, as feeding his Porsche with tyres was becoming prohibitively expensive. So, we sent off our money and were accepted.
However, being a real track day the regulations were a bit more stringent. So, I made up some steel brackets to bolt in the driver's seat in two positions (for me and Dean).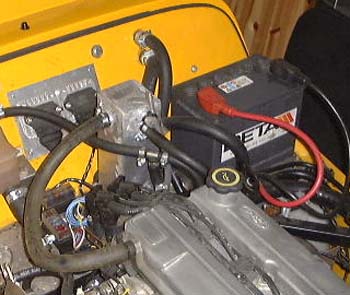 I also arranged for dual throttle return springs and got rid of the old catch tank and made a new one out of aluminium. This looks quite neat plumbed into position.
August 13th
So, we got up very early (scrutineering started at 8am) and got to Cadwell just before 8, in time to nip off and get some fuel.
After scrutineering and registration we were formed into three groups and the day started with some "familiarisation laps" behind a pace car. This car wasn't mucking about so it was quite fun and boded well for the event itself. The circuit was pretty tricky and the couple of things that they mentioned in the briefing were quite true, in particular, the hairpin is very tight, there's no run-off (just an imposing tyre wall) and it's a bit slippy on the way in.
Dean was on in the first run (we were in different groups) and so he and Tom belted in I retired to watch with Mike, another cam7er who was there. There were quite a few cars on the circuit and it was obvious that Dean was being held up but he got past right in front of us and set off on a clear track.
Shortly after that the session was mysteriously stopped and all the cars started to come back into the paddock. Then the fire truck went out, followed by the ambulance. I then realised that I hadn't seen Dean and started to worry a bit. After much hunting around I found Tom and he told me the sorry tale. Dean had gone off at the hairpin just after passing the car that was holding him up. Essentially he arrived (on the slippy track) with far too much speed and went straight into the tyre wall. Luckily no-one was hurt, although the delay in finding Tom was due to ambulance people insisting on checking them over, perfectly correctly.
However, the car was a different story and it was dragged back into the paddock in a bit of a sorry state.
The immediately obvious problem was the top wishbone on the front left wheel was folded flat, hence the rather extreme negative camber in the photo above.
At first sight that was the most serious bit of damage. However, this was unfortunately an inaccurate assessment.
There was the inevitable amount of cosmetic damage. The nose cose is definitely toast, as is the radiator cowling. However, it didn't seem to be leaking water anywhere. The left hand headlamp mounting is buggered, although the headlamp itself appears to have survived.
However, on closer examination it became apparent the the chassi was bent as well. Up to this point I was wondering about going to the Westfield factory boys to see if they had a spare wishbone. With the addition of some elbow grease and lots of gaffa tape I could be out again in a while. The rear mounting of the top wishbone had twisted the vertical tube on which it is mounted meaning that there was no way I could have fitted a replacement, nothing would have lined up.
So, after some consultation with the AA they sent a flatbed truck out to pick me up. They started off by sending a normal AA man. I told him he wasn't going to be able to fix it, as I had done to the person on the phone, but he was quite confident until he saw the car.
After that, and a lot of faffing about, the truck finally arrived and we loaded the Westfield and set off. The tape on the bonnet in the photo is to hold the bonnet on, as this locates in the nose cone there's nothing to hold it on anymore...
We then set off for home. The car was actually going to Terry Nightingales to let him have a look at it. When I get a quote from him I'll decide what to do about fixing it. It's clear that at least the front left of the chassis is going to have to be replaced but it could be much more. The car need to be put on some sort of jig to check the chassis over. Unfortunately, getting at the chassis properly requires just about a complete disassembly...
the end?
in case you've got to this frame directly and can't get out, go here.