I went down to Dax yesterday and picked up the (supposedly fixed) exhaust systems and the (narrowed) rear arches. They didn't charge me for the latter because of the fracas with the former, which I suppose is some compensation.
While I was there I was looking again at the new removable side panels and wondering if they would fit with the V8 exhaust systems. Even if they would they'd need a fair amount of fettling bit I'm tempted to try it. However, for now I'll just press on regardless..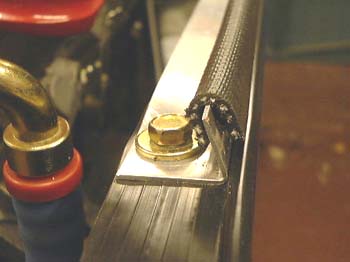 It's been ages since I managed to do anything, for all sorts of reasons. What's more, as the weather gets worse and the nights close in it's increasing difficult to venture into the garage.
However, I did manage to do a short time today. I finally managed to attach one of the side panels to car, or at least start attaching it. On the Rush there's a complicated arrangement of trim and bits of bent aluminium that locate the sides of the bonnet and also get bolted through the sides into the top chassis rail. I did one of these, hopefully with the side in a position that will fit with the nose cone and scuttle when they get attached.
Perhaps I'll manage to do something tomorrow too...