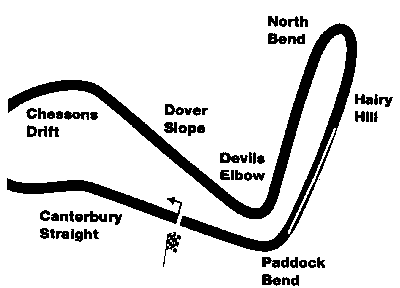 It's late on Sunday evening and we got home a while ago from the race weekend at Lydden. I've come to the conclusion that finishing a race, wired on adrenalin, and then driving a trailered car home is just about the most tiring thing in the world..
Anyway, it was a pretty successful weekend. I still haven't beaten anyone (fair and square, anyway) but I feel that I'm a lot closer to it.
The weekend started with getting up early on Saturday and driving down to Lydden Hill, which is just about at Dover and about a 2 hour drive for us.
Scrutineering was pretty straightforward and we didn't have long to wait for our practice session just after midday. We only had 10 minutes so it was going to be pretty difficult to learn the circuit and set anything like a decent time. It's a very short track, just mile long and with essentially four corners on it. However, they're all very different from each other and there's also quite a lot of gradient and camber changes which make it all pretty interesting. I did spend a while mugging up with the aid of the circuit guide, which was very useful, but of course no substitute for the real thing.
One minor event in practice took place on paddock bend. This is approached at full chat down a fairly steep hill from North Bend. You pretty much have to brake and turn at the same time and as the car reaches the apex the camber goes very negative and the car goes really loose and you drift across the circuit hoping that you won't get in the gravel trap that's there to catch you before you hit the tyre barrier, behind which is a short cliff made of best Kentish chalk; your very own white cliff! I caught one rear wheel in the gravel trap once, as a result of apexing far too early and therefore being pushed wide. I spun off into the infield but got going again without any problems. Apart from the duff lap time that is.
The other corners include Pilgrim's/Chesson's Drift (no idea which bit is which), Devil's Elbox and North Bend. Chesson's is approached on a twisting, camber changing track down a hill and then turning right and sharply upwards. During practice there were loads of marbles just here too, making life pretty interesting. After that you could get on the power and pretty much hold a simple line around the rest of the bend. The name seems to imply some sort of drift, but that probably applies to cars of a bygone ago.
Devil's Elbow is a fairly sharp bend with a very fast approach just needing a lot of brakes and a suitably late turn in and then it's off up the hill (a pretty steep hill) to North Bend. This is a hairpin which I seemed to spend the entire weekend trying to find out how to get around. I tried a late turn-in, an early turn-in, double-apexing it, and so on. Nothing seemed to be right, possibly because the exit was a real oversteer extravaganza. Some of that cars in the races later made it look like a rally bend with a classic tail-out style.
Anyway, after practice I was the inevitable last.I was, though, only 0.3 second behind Colin Chapman (honestly!).
The first race later was pretty dismal, to be honest. At the start I got away moderately well but didn't seem to make any sort of decent progress. After that I just seemed to slip smoothly backwards. I was conscious that I was still learning the circuit though. Unfortunately, I got lapped by a whole bunch of people (although not by any means the entire field this time). I did get lapped twice, just before the finish, by the leading pair of cars though.
Post race scrutineering was interesting. As a consequence of getting lapped just before the finish I was third in the queue, which seemed at least a better result, as I could get away quickly. Then I found out they were checking reversing mechanisms which meant that I was essentially at the back of the queue! The car's reverse worked just fine, which is more than could be said for loads of other people. There were some horrendous graunching noises and lots of drivers that clearly had no idea how to get the reverse to work.