I just knew I shouldn't have gone to Mallory, it was bound to be a disaster. Our day went like this.
We turned up at Mallory at the crack of dawn as I had decided to register for the allcomers race for which scrutineering started at 8am. Signed in, paid for the all-comers race, scrutineered, attended first time drivers' briefing all fine. However, the ground was still wet from overnight rain and as I had brand spanking new tyres on I was going to take it easy during the all comers practice as I didn't want to fall off again as an effect of the release compound on the tyres. (I had gone to George Polley's on Saturday and bought 4 new A048s. Not bad value really at £276 including fitting and the dreaded.)
As it happened, I was stuck behind Phil Alcock all the time. I didn't really want to force my way past him as on the track in those conditions it could have been a bit horrid. On the occasions that I dropped back I caught him up too quickly. His car (MK Indy/ZX9R) looked a spectacularly horrible handful from behind and I was waaaaay quicker than him through Gerrards which is a real test in the wet. (Dry too, come to that.)
One problem was that my gearchange was sticking. Every time I changed up the lever didn't return to centre. I have been thinking that I wanted to strip the gearbox and have a look as I'm less and less convinced that all is fine in there. So, my upchanges were rather slow and that must have slowed me down a fair bit. I know that Martin has had similar problems and has experimented with centreing springs.
At the end my fastest lap was something like a 64 which wasn't too bad considering the greasy conditions. I did have one real go at a decent lap but that came to nought when I came across Graham parked sideways across the exit of the hairpin. He looked fairly worried as people passed him on both sides but got away with it.
Next was the RGB qualifying and by now it was dry and sunny and I could have a go at it. I was in the assembly area early and set off to hopefully set a decent time. It was going great and my times were coming down when coming dowm from Gerrards there was oil smoke everywhere and various warning lights. I stopped at the marshalls' post there and waited until I got towed back, thinking the worst. Although, I was also wondering if this was a repeat of the problem I had at Cadwell Park when the oil sensor tee piece had broken. I had been told that the new one was bound to fail again so it was my intention to remove it after this race anyway.
I still got scrutineered on the way back. My reverse even worked without the engine running! (Quite a lot of people failed on this or the handbrake and this time they moved people to the back of the grid and penalised them.)
My best time turned out to be 54.6 which seems fairly reasonable. In fact, that was the best bit of the day. I had actually qualified 11th but ended up 8th after a few people had been moved to the back of grid for scrutineering problems. Quite a rarified grid position for me.
Back in the paddock with the bonnet up and it was the tee piece that had failed. DH2, Adrian and Jonathan worked like a crack pit crew and we soon had it back together, albeit without a pressure gauge. At the time I chose to fit the light rather than the gauge although I've since realised that that was the only way that the pipe fittings would have worked.
That all meant that I missed the all-comers race but as it took place as 2 sessions of 1.5 laps each that was probably no bad thing. There was one spectacular accident with someone losing it at the exit of Gerrards and forgetting that the rule is when you get on the grass that minimal input is needed.
However, as it got towards our race the sky got darker and darker and gloomier and gloomier. Our race was scheduled for 1705 which had seemed a bit optmistic anyway for October 24th. Racing in the rain and the dark didn't look too clever. However, in the assembly area it was still clear so perhaps it would be OK. We got away and on the way round to the start I was getting myself together and then thinking that the engine did sound a bit rattly. I wondered about stopping but as I was doing so there was a loud band and it sounded like I had a tin can full of 6" nails in the front of the car.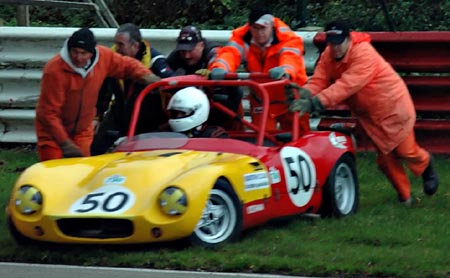 So, I stopped, they pushed me back (hard because I couldn't get neutral and had to sit in the car with my foot on the clutch). Getting the car back on the trailer was even more difficult.
I guess the tee piece failure compromised some bearings and that was it. In fact, the earlier failure at Cadwell probably started the rot. I just wish I had followed my initial thoughts and just stopped. I could probably have got away with just changing bearing shells and so on then.