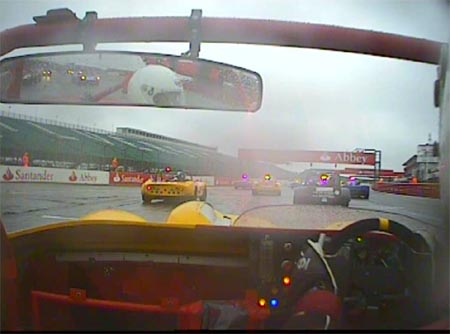 After the recent run of "bad luck" (that is, spinning and driving into other people) Silverstone was a rather surprising change, especially considering the weather as it was chucking it down with rain in the race. The photo here's from the start line and you should be able to see how horrible it was.
However, I'm getting ahead of myself, so let's go back to the Friday evening. We arrived late as I'd had to work until quite late. All the same, I had time to push the car into a garage, which RGB had got for a nice change, and to set the corner weights. I actually chose to bias the weights slightly to the right-front/left-rear diagonal. Theoretically that's supposed to be slightly better for a right-handed circuit and it might, perhaps, make Luffield a bit less of a "let's wait for the understeer to stop" corner
Anyway, qualifying was pretty uneventful and I didn't do that well really at 12th overall, 7th in class). TBH, I really need to buy a couple of new tyres as the ones on the left are pretty nadgered but I'm trying to save the other ("wet") set as they seem to be working well in the wet which seems more frequent this year than last.
My attempts at making the front end stick a little better round Luffield were pretty dismal, as it turned out. I seemed to have armfuls of understeer there and when I came in the left front tyre was just not up to temperature, which is not what I'd expected. So, I attempted (without going through the pain of getting the scales out again) to put a but more weight on the front left.
All of this, though, turned out to be pretty academic in the circumstances as when the race came around it was raining prodigiously and I fitted the "wet" set, softened lots of bits and moved the bias backwards a couple of turns. The aforesaid "wet" set is the ones that I used in qualifying at Snetterton with which I was quite pleased. We got a green flag lap although they'd told us in the assembly area that one of the Golfs had covered Brooklands with oil and so it turned out, you could see all the pretty coloured patterns as you came down the club straight. The chance of half the field ending up in the gravel trap there looked pretty high.
When I went up to the start I had some sort of brain fade and managed to:
make a dog's of finding my starting place. To be honest, I forgot to remember where my place was (which you have to do when there's a green flag lap) and didn't manage to calibrate my brain properly
stall the car just before
not seeing the lights go out.
So, I dropped the clutch when everyone else started moving. However, I didn't seem to do much moving and essentially large portions of the field passed me before Copse. Still, the car seemed to be still going so I had a go at it. After a lap it became clear that I seemed to have a decent amount of grip compared to everyone else. (That is, my grip was pathetic, everyone else's was awful...) What's more, very few other people seemed to have remembered the mantra about taking different lines in the wet. I remembered from the past that taking a wide line around Luffield was the thing to do in the wet and it worked very well.
So, after the first lap I was in 17th place and feeling that perhaps I could have a bit of a go. So, I managed to go round the outside of Rob into Becketts and then, amazingly, straight around the outside of Richard and Stephen (in the Menace) around the outside of Luffield. So, at the end of lap 2 I was up to 14th.
So, on lap 3 I was feeling a bit more confident, although the car was still banging left and right as one side and then the other aquaplaned. (This motion is really fierce, you end up with bruised ribs as you get thrown from side to side against the seat.)
I then finished lap 3 in 13th place, having taken huge amounts of space out of David on braking for Becketts, leaving me able to finish the job on the club straight. I then came up to Colin at Brooklands. I'd started side by side with Colin on the grid and it was at this point that I realised that I wasn't going to finish as badly as I'd feared.
Next lap I took a wide path at the entry of Becketts and got past Colin on the exit, then around the outside of Henry at Luffield to leave me in 11th place.