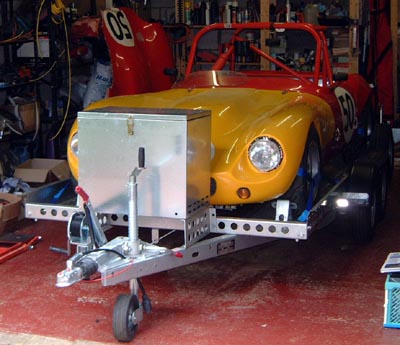 All the same, we finally packed up the car, tools and various creature comforts and set off for Brands Hatch. We got there on the Saturday evening and set up "camp" in the paddock. There was an RGB get-together so we got a chance to meet a few more people which was good.
We also went for a walk around the circuit. That was quite revealing, especially about how steep it is down Paddock Hill Bend and up into Druids. You don't get a real sense spectating just what the gradient is like.

Sunday morning was clear and bright and we got to the circuit at about 9:30. After a short fettle I signed on and got less than the full quantity of stickers: some feeble excuse about running out. After a while I got scrutineered which was so trivial I think I could have turned up in a donkey and cart. They might have wanted me to put gaffa tape on the donkey's eyes but that would have been it. However, the scrutineers were in general very friendly and everything seemed fine.
I was sitting about after that and Dan mentioned that I ought to go to the first drivers' briefing. Eeek, I had forgotten all about that. So, we wandered over to race control and found a clerk of the course chap who talked us through where to go, and so on. I thought they might be a bit arsey about not being there at the appointed time but, again, they couldn't have been nicer about it.
In a while I got the car out and drove over to the assembly area to go out for qualifying. After Mallory I promised myself I was only going to go really slowly. What's more, I was going to take the first three laps really, really slowly so as to be sure about getting a time, any time, posted. Eventually they let us out and I pootled out and after an age got round to the start/finish "straight", at last going at some speed, to be faced by a huge cloud of white smoke. I went through the smoke to find Gordon Milner in the gravel trap by Paddock Hill Bend. Apparently, his oil filter had made a bid for freedom and the real problem was when his oil got onto his own tyres. I made my way through the smoke and noticed that the nice marshall people were waving their pretty red flags at me. I waved back and went and parked in the pits.
"12 minutes" they said we would have to wait. According to the lap timer this was an 11 minute lap so I guess that was probably about right.
After that, qualifying was pretty much as expected. I pootled round slowly learning what to do and where while cars passed me on the left, the right, flew over the top and generally made a menace of themselves. The marshalls waved their pretty blue flags at me, but I didn't wave back this time. Someone had told me that qualifying at Brands was frenetic but this was ridiculous. At one point Andy Charsley (current leader, I think) went past me in a gap that plainly wasn't there and at such a speed differential that I thought I might as well get out and walk. Mind you, he's apparently spending lots of money on blueprinted engines and so on which seems a bit non-U to be honest. Apparently, he got black and white flagged for lurid opposite lock slides through the oil left behind by Gordon M later in the session.
Confusingly, a TVR Tuscan came past me a couple of times. I found out later that they'd allowed him into our session. I did wonder what sort of bike-engined car it was.
Unfortunately, I can't find the time sheet (the results will all be published soon on the 750MC website) but my time was about 1:03, as opposed to the 52 seconds, or thereabouts, of the class A front runners. Those 11 or 12 seconds were split evenly between the first chap and the bloke in front of me (Phil Alcock) and the gap between Phil and me. But, I wasn't actually on the last row of the grid. Gordon M was behind me, they'd obviously taken pity on him, along with someone else who didn't make the race anyway.
The race was scheduled for 5:30pm and we all got to the holding area at a sensible time, but had to hang around for ages after they red flagged the race before and then couldn't seem to collect up the car that caused the red flag properly after the restarted race was finished. So, I headed up to the grid never having done any sort of racing start before and wondering what the hell would happen. After the usual faffing about involving extreme time dilation the red lights went on and the next time I looked, I must have blinked, they weren't on any more and we headed off. Gordon M just disappeared past me (he probably knows how to work the clutch, I reckon, and I lumbered off. I actually passed a couple of cars, probably because even I knew how to work the clutch better then them and a huge gaggle of cars descended on paddock hill.
After that, to be honest I treated it more as a testing session than anything else. I was managing to get the car to go faster and faster but the big problem is paddock hill bend. It's essentially blind and if you go into it too slow, and don't remember that the gradient change means you can lean on the loud pedal more effectively, then you get done up the hill to Druids. As I did repeatedly. When you get to Druids you find, it seems all the time, a collection of cars in the gravel trap who are chucking gravel all over the place and just charging back onto the circuit in front of you. Because half the field has dived up the inside on the way up to Druids you are forced to the outside onto the end product of their deliberations: a load of gravel all over the circuit. Consequently, it all goes squiffy and you scrape out of Druids, don't get enough speed back down the hill, don't go fast enough on the Cooper "straight", run out of balls through Surtees/Maclaren/Clearways/Clark Curve (or whichever one's which) and therefore aren't quick enough on the Brabham (start/finish) "straight" and then it's paddock hill again.
Oh well, more balls needed I think. Particularly into that corner, also into Surtees which I'm sure other people were taking flat. I nearly was but at nothing like the same speed.
Still, I did finish. However, I did get lapped; twice, by the leaders. But I did get a signature on my licence so I can't have been too bad a boy. (I was told that if you got lapped twice you wouldn't get a signature, but perhaps they take into account the short lap.)
Best laps times in the race were 59.2 or thereabouts. That is, 4 seconds quicker than qualifying and there's loads more to come. I didn't get anywhere near the limits of the car but I did feel that I was starting to get more of a feel for it.
I finally got the car weighed at the end of the race. 560 kg it said which is 30kg over the limit. As that includes me and a lot of fuel--there was no way I was running out--that's not bad to be starting with. If I was to buy some flash wheels and put half the fuel in and cut a few more holes and get me down to 82% of me (the current target) rather than the 87% of me that I am at the moment, etc., etc., I might even be able to get not a million miles away from the weight limit.
At the end of the whole thing I feel a bit let down in that I didn't push the car as hard as I should have done. Still, it isn't broken. I do, what's more, have a signature on my licence which means I'm one step on the way to losing my novice cross. I suspect to keep getting signatures, though, I need to get in the thick of things a little more.
The semi-official race report is here.
The next RGB race is at Lydden Hill on July 24th and 25th. In fact, it's a double header so double the race experience. I do, of course, now have loads of things to do.