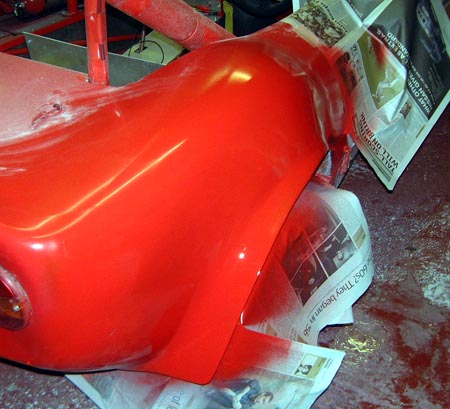 With that done it was on with the rear wheel spats. There's not really much to say about this as it was just a matter of marking the bodywork out where the spats were going to go, cutting the bodywork back, bonding the spats in with some GRP, using some filler to fill in the gaps, rub it down hugely, prime it and paint it! Of course that took days to do and in the process it's filled the garage, again, with dust and made the house stink of paint.
However, the end result is OK and it doesn't look too shed-like. This obviously means that just one race and they'll get all smashed up.
So, now I need to get the car ready for the Donington race this weekend. I want to have another go at mounting the DL1 in a water-proof housing as I don't seem to have succeeded at that. I may fall back on another sandwidth box but I need a bigger one that the one I used before due to the little board of electronics that I have on the back of the DL1 itself these days. I also want to put a "start logger" switch and "logging on" light on the dashboard.
We're going to have to leave for Donington on Friday afternoon as we have to scrutineer at 8:25 am! What's more, I need to get to the first time drivers' briefing before that so it's going to be really hectic.
Bugger, bugger, bugger, bugger, bugger, bugger, bugger, bugger, bugger, bugger, bugger, bugger, bugger, bugger, bugger, bugger, bugger, bugger, bugger, bugger, bugger, bugger, bugger, bugger, bugger, bugger, bugger, bugger, bugger, bugger, bugger, bugger, bugger, bugger, bugger, bugger, bugger, bugger, bugger, bugger, bugger, bugger, bugger, bugger, bugger, bugger, bugger, bugger, bugger.
Hmm, that just about covers it!
We set off for Donington on Friday evening and got there, nabbed a garage, prepped the car (things started really early in the morning) and settled down for the night. Scrutineering was uneventful but qualifying was going to be a bit of a trial as I'd only ever done about 5 laps of Donington Park and that was in the Dax back in September 2002. I could just about remember where the corners went but that was it. Come to think about it, that trip to Donington ended in disaster too. I wish I'd thought about that before.
All the same, qualifying was OK. I started slow but managed to get going faster and faster. I was actually faster on each lap than the previous one so something must have been going right. I was having real trouble with Redgate though as, as is obviously usual for me, I was consistently going in too quick. After everything I ended up with a time in the 1 min 25 seconds region which seemed OK for a first attempt. I was 14th on the grid out of 28 cars, in the middle of a group of cars which I regard as the people to beat.
When the race came around I made another of my demon starts and made up about 4 places on the run down to Redgate. The video at this point shows a number of cars spinnind and, what's more, I started spinning too, mysteriously after a car came up in the mirror incredibly quickly and shot past me. Given the quantity of rubber on the side of the car I have a suspicion that he hit me and tipped me into the spin.
This spin was the problem in that I spun round by 180°. One car shot to the side around me and the one behind him, Louis, speared towards me and slammed into the front of my car at some considerable speed. In fact, his right front corner hit my right front corner. After climbing out it was clear that things were very bad. After Mallory Incident III my car was towed back to the paddock with no drama. This time it was clear that the front of my chassis was actually on the ground which is not good.
The marshals pushed us into the medical support truck and took us to the medical centre where we got checked over. I just had a small bruise to my hand, I probably hit something in frustration. Louis had a little bit of whiplash but the general view was that things were just bruised and he'd be fine in a couple of days. After that we walked along to the scrutineering area where our cars apparently were. Louis's didn't look too bad. Mine, though, looked horrible. This photo was taken this morning after the car was back home. As you can see it has just a teeny bit too much toe-out on the front suspension.
We eventually got the car back on the trailer with a huge amount of help from a lot of people in the paddock but special mention must go to Adrian and his friend Duncan, fellow competitors Colin Chapman, Adrian Chapman and Neil Constable-Berry. Kit Car Workshop people Martin, Ian and Chris (the latter not racing today due to a problem with his diff) and Colin Chapman's friend Roger. The last person being the only one who had the nous to spot that we were trying to winch a car onto a trailer with the engine still in gear. Doooh. Even at such a low moment the general friendship in the paddock was great.
Oh well. Having dragged the car back onto the trailer and having had a shower and a cup of coffee (having a motorhome in the paddock is really great) we left for home and stowed the car in the garage overnight. This morning the aforesaid Adrian turned up again, this time with his son Chris, to help with stripping the car.
In fact, I've never made such quick progress and by the time Adrian left at about 1pm the engine was out and all the front of the car spread about the floor of the garage. I spent another couple of hours taking the dash and scuttle off and the front end of the car looked like this photo.
As you can see, this is seriously bent! We actually had to cut through one chassis member just to get the suspension off.
Anyway, the car's back on the trailer now and I will take it to the Kit Car Workshop tomorrow for yet more of their chassis fettling. Doubtless this is going to be even more expensive.
I've been looking at the datalogs and I scored a negative (backwards) acceleration of 1.8 g at the moment of impact, at which point I was doing about 20mph backwards. I think that's a record for longtitudinal acceleration in my datalogs.