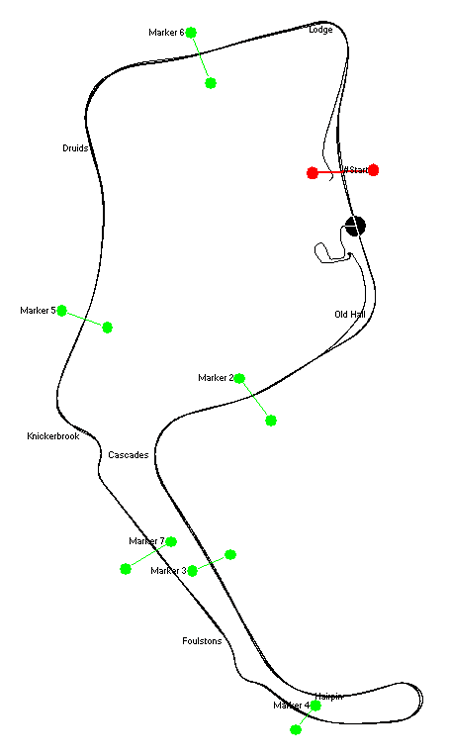 So, with that done it was off to Oulton Park for a day to be spent hammering around the track with Tim Harmer.
We spent the evening before the trackday on a camp site local to Oulton. God knows what the various caravanners, stuck in their little metal boxes watching their TVs thought of Tom and me arriving with a race car in tow. Whatever, we got to the circuit early the following morning and met up with Tim and signed on.
There was another RGBer there in that Doug Carter, who drives a very neat class A Genesis, the twin of the car that Tim used to win the championship last year. In fact, Doug was in the garage next to us.
However, Doug sufferred a failure of an oil union and a small fire as a consequence which curtailed his day. he also dumped oil all over the track which was a pain, especially as we nearly ended up in the gravel trap at the hairpin. Fairly hair-raising that. Doug seemed quite hacked off about the problem but it's really just one of those things.
After signing on and driving a few familiarisation laps we got Tim fitted into the car and I went out for a first blast of the day. Frankly I drove horribly and I was embarassed to hear what Tim was going to say. Luckily he was very kind and suggested a few things and we went out again.
This time things were a lot better and I started managing to get the power down rather more forcefully. The biggest problem though, was Lodge which was pretty much the bugbear when I raced here last year. It's the corner at the top right of that map (which was produced by the DL1's GPS receiver).
After another couple of runs we stopped for lunch. I did seem to be getting a bit faster, and looking at the datalogs later this does seem to be the case. One odd problem was that the gearchange seemed to have moved in that the actuator arm behind the steering wheel was no long parallel with the wheel, which was odd and I put down to something having slipped somewhere. I adjusted it slightly but it seemed a bit odd all the same.
After lunch we decided that Tim was going to have a go at driving the car so we swapped seats and rammed a load of padding in behind Tim. He's not a small bloke but he was amazed that when sitting in my seat he could only reach the pedals with the tips of his toes. Sitting in the passenger seat with Tim driving was an amazing experience. Essentially the bloke's an animal and he was much more brutal with the car than me. In fact, my fastest lap was actually a good deal quicker than Tim's by about 2 seconds but it was clear that he was indeed doing the sorts of things that I've realised all too well I need to do. However, one issue was that he didn't seem to be amazing earlier onto the power than me, which is one of the things that I was most concerned about. (At least, this applies to my quicker laps, the slower ones which are probably more representative of the times I put in at Brands a while ago do suffer from this.)