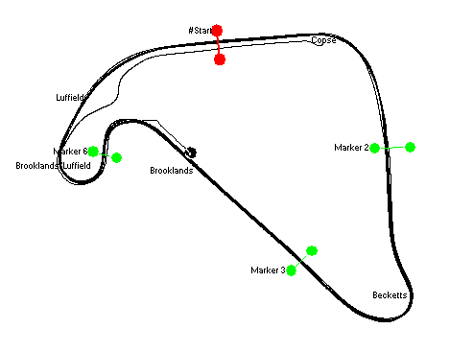 A bit late, but this is what happened at the race weekend at Silverstone last weekend. Don't worry, I didn't bend it again. In fact I had a fabulous time.
Friday
We got to the circuit late on Friday. At the last moment I'd failed to get into testing on the friday so I'd signed up for the bikesports race on the saturday so as to get a bit of circuit time.
We parked in with the bikesports people as the RGB space on Sunday as going to be Stock Harch City on Saturday and we didn't want to get involved with that. (Apparently, Stock Hatch is no the world's most popular race series!) We went for a walk around the paddock later and found a few RGBers who had done the test day and were sticking it out in the middle of the Stock Hatches. They said that the test day had been a pretty bad day on account of lots of other people treating it as a race. Apparently the day was peppered with red flags. So, perhaps our strategy was the righ thing.
Saturday
Got up bright and early, which was more than could be said for the weather which was really overcast. So much for the sunny day that had been forecast. In fact it looked like it might well rain soon, which it did indeed do.
Ho hum.
Still, signed on and got the car scrutineered which was even easier than usual. The race I'd entered on Saturday was billed as Bikesports and the 750 Formula. I had thought that this meant that I might get a decent race as the 750 Formula was bound to be slower even than me.
However, although we were still practising together they'd split the grid for the races, possibly because of the RGBers who had signed up. (There were now 4 of us. Tim Pell (Class A), Chris Seaman (Class C), David Wale (C) and me.) After another downpour we set off for qualifying.
The weather looked as though it might stay dry so I stayed on dry settings and hoped for the best. Once we got going it was pretty fraught. There we so many cars on the track (38) that the chances of a clear lap were just about zero. What's more, it was chaotic and at one point I thought the marshals might just as well put the yellow flags out permanently as that'd be easier than continually taking them in and out. I was surprisingly just about in the middle of the field with a 71.65. As the track seemed to really lack grip (Luffield was like an ice rink) that was probably not too bad. I was going to be 15th out of 22 on the Bikesports grid which wasn't too bad given the quantity of really quick machinery.
Pole was something I hadn't seen before in the shape of a Lynx LR1 which was, not to put too fine a point on it, absolutely gorgeous. It was also really quick and just drove round the outside of me at Copse on one lap. (But, it's 400kg, had slicks about 12" wide and wings.) Apparently they're selling them for about £15,000. If someone wants to buy me one for Christmas that'd be just fine.
Fastest time in quali was 62.32, slowest was 95.19 which gives you an idea of the mix. Biggest problem for me though was that I hardly ever saw 6th gear. Round a circuit like Silverstone this is daft and it's getting really clear that some of the chaps have a big advantage by not running the Freelander diff which at 3.21 is really rather tall. I just took Martin Bell's word for it that this was the diff to fit when I built the car. It's clear now that this just isn't the case and something much shorter would be a good idea. As it is, the car's geared for about 140mph which it has no chance of reaching as there's no way a puny 135 of Mr Honda's ponies can drag my fat ar$e down the road that quickly.
As it was the fastest I did in the session was 113.2 mph. So, I decided on trying a rather drastic solution. I went along to George Polley and swapped a rather knackered pair of 185 tyres that used to be the front pair of one of my sets of tyres for a nice new pair of 185s. I then replaced the existing rear 205s with these. In retrospect I shouldn't have done it this was as I now have four completely useless 205 spare tyres but for some reason I convinced myself that this was the right thing to do. Using the 185s rather than 205s would shorten the gearing a bit. In fact, looking at the data afterwards the difference is about a 3% reduction in wheel speed at the same RPM. Not very much but it is a little.
So, when the race came around I was essentially going to have to relearn the gearchange points, but as I didn't have high hopes, who cares. As it was the race was a blast! The three class C RGBers were close-ish on the grid and when the lights went out I got a real flyer and passed a whole stack of people on the run towards Copse, including both Chris and David and a whole stack of ADRs. As it was I tried hard not to spin and succeeded! This was made a good deal easier but having had a green flag lap. Luxury, I tell you, luxury.
However, the race was red-flagged on the way down the club straight. Not sure why but as I went back to the grid the recovery truck was picking its way between us so perhaps there was a break down somewhere. The second start was a bit less eventful, mainly because the bloke in front of me was wise to me now and moved right to block me on the start. I still passed him but had to go the long way round. Out of Copse and Chris, David and I were running line astern and obviously doing all right against all the should-be faster ADRs. For those that remember the Team Grolsch ADR was in this race but only did 4 laps. One reason for this was that the gearchange that was bodged at Snet last year to work back-to-front failed. Looking at it later this was hardly surprising as it was still a bodge of Herculean proportions. After that, Chris got away a bit but I carried on behind David. Next lap I got out of Becketts reasonably quickly and outbraked David into Brooklands. A couple of laps later he did the same to me. A couple of laps later I got up the inside, again into Brooklands, but this time made an awful cod's of it and ended up running wide and he nipped back inside me. After that we stayed in those positions until the leaders came through (the winner was a Radical Clubsport whose fastest lap was 61 secs compared to the 69ish that David and I were doing. I dropped back a little as the leaders went through (always difficult for me to avoid for some reason).
All the same it was an absolutely fab race. For the first time for a while I'd been seriously racing someone, and in this case someone I trusted totally not to do anything silly. When we got back to parc ferme we three RGBCers agreed that we needed to do this again. In Parc Ferme we had a good look at the Lynx and David was talking about saving up for one.
The gearing changes were great. In the race I did a 69.43 and my fastest speed was now over 114 mph. Not a big change but I had actually been using 6th gear. This means that the acceleration must have been better. Certainly I could keep up with David in a straight line which I've never been able to do before now. He does have a more sensible diff ratio.
Problem is, I now need to work out some way of getting a different diff into the car. That will need different driveshafts and, probably, a modified propshaft I guess. I could, though, easily get a Ford viscous LSD which would be a good idea.
Sunday
Crikey, sunshine! In fact, I got burnt. Somehow the thing about raceday is that I forget lots of things like eating and sunblock. I wonder why that is? Mind you, qualifying was awful. There were loads of cars on the track (33 it says here) and although there weren't any red flags, which is a nice change, I didn't really manage to set a decent time at all. I got a half decent lap in early on (lap 4) and then tried to engineer myself a better track position. This was a complete failure as when I let some of the slower cars through so as to build up a gap as soon as I actually went for it one of the class As caught me up on my quick lap and I had to let them past. It would perhaps have been better to just pound around and hope for a decent lap appearing.
My one half-decent lap was actually worse than I'd managed in the race on Saturday and there was definitely more grip on Sunday, probably because the track was much warmer. (Those of you not familiar with such things can just stop for a minute and think about what it gets like on the inside of several layers of Nomex clothing, which is really a sort of sophisticated plastic bag, on a sunny day, in a stressful situation! Hmm, I need to put the washing machine on.)
All the same, I was on the grid, 26th out of 33 and undamaged. Come the start I somehow managed avoid seeing the lights (they're sort of round the corner and they don't have the repeaters that, say, Brands has.) and lost a little bit of time getting away. It was nothing like as awful as last year's start though where I tried to start in neutral. I had started just behind Neil (a class A Fury) and managed to get up the inside of him into Copse. Up the hill to Maggots and there were cars all over the place but not much unlawful although I did get passed by John Cutmore who had all 4 wheels off the circuit at Becketts. Kind of silly that as we'd specifically been told about that in a talking to that we'd had from the Clerk of the Course at lunchtime.
I moved to the right to pass John and he blocked me so I went past him on the left. Unfortunately he then demonstrated that I need to start concentrating on braking later by braking way later and going round the outside of me in Brooklands. (I did pass him later in the race though.) I was, though, slowing as Pete Rope, who had also barged up the inside at Becketts was spinning and I was having to avoid Colin C who was avoiding Pete. In the process Colin D got past but I tagged behind him and passed Colin C along the pit straight and into Copse.
So, that's one lap done and it carried on in much the same manner. That first time round Copse was, though a bit alarming. We'd been told in the assembly area that the Roadsports guys had put down rather a lot of oil in Copse and so it turned out to be. The first time through at full speed (it had been all right just after the start) and I hit the oil/cement dust mixture that had apparently been put down by an MGF that had ended up upside-down. On the marshal's forum it says:
"A very confusing incident at copse resulted in Mark Baker in the MGF proving that it can handle being on its roof very well. Upon arriving at the scene we get the thumbs up from the driver who seemed to quite like hanging in his seat. 'Ive pulled the isolation handle' he says as he shows us the handle and all of the wire 'I pulled it quite hard'."
So, on the first time through I hit a large patch of cement dust and the car jumped about 2 car widths to the left. Rather alarming and at this point the camera got scared and stopped working. However, I was still pointing in the right direction and I carried on. Essentially a big dice then developed with me, Henry, David, Oliver and Colin D changing places a fair bit. On one lap I actually managed to pass both David and Colin into Brooklands which was pretty special.
However, Colin then scared the bejazus out of me by passing me into Copse at a quite astonishing speed. He seemed to go past me like an express train and he said later that he tried it without braking at all! He must have lifted at least but it makes you think how fast it could be taken.
There were a few problems with yellow flags though which actually messed up my race slightly. On the last lap I was just behind Henry and I knew I could pass him at two separate places: Copse and Brooklands. I deliberately just stayed tucked up behind him at Copse though as I thought if I did get through then he'd get me at Brooklands because of the tow down the club straight. So, out of Becketts hard on the gas and 6" behind Henry, I easily pull left and start going past him (and he doesn't try and block me). However, I'm about 1/3 of the way past and they put the yellow flags out.
Grrrr.
I actually thought about pretending I hadn't seen it but decided that an endorsement wasn't a clever thing. This was actually the second time this process happened in the race, I'd backed out of passing Colin D in a similar manner a couple of laps before. So, I went across the line 2 tenths behind Henry. Worst of all, in parc ferme Colin D said that he thought he'd overtaken someone under a yellow. Indeed he had and this is how he'd got away from me slightly as he was about 0.9 sec in front of Henry at the line. As it was he got penalised 1 sec for overtaking under the yellow which means he appears between Henry and me in the final classification!
Oh well, I was still out of the points but it was an absolutely fab race and has quite rekindled my enthusiasm. I actually came away quite liking racing at Silverstone. Fastest lap was 69.2 but I reckon there's quite a lot more time there once I learn to brake properly.
Max speed in the race was 117mph but that must be tow assisted.
Now I need to get ready for the Brands meeting. This is a double-header on Saturday September 10th. Unfortunately, the As and Cs are mixed up again which at Brands is going to make for a real frenetic race. I'm going to go testing there on Friday to try and sort a few things out, especially with the modified gearing.