Time for the long weekend at Cadwell Park. Thankfully this is the last of a series of three meetings which have followed each other rapidly. After this we get a rest for a few weeks.
Saturday, testing
It looked as though the day's weather would be OK. I got the care prepped and signed on at 8am. They'd got the day split up into three groups and we were going to get six sessions on the circuit each.
The evening before I'd sat looking at my records of last year's outings at Cadwell and my fastest lap there was a measly 1:44.91. Having looked at the logs I decided that aiming for a 1:43.5 would make sense. Not entirely sure why but it seemed to make sense at the time.
I went out for the first session, really just to see how the car was going and get an early check on tyre pressures and so on. FL was a 1:44.9. The car, though, did feel really good.
Only problem was I felt really green. This is a problem I have at Cadwell and I'm not at all unique. Chris Seaman doesn't do Cadwell any more for just this reason.
However, I sat around, twiddled tyre pressures a bit and decided to have a real go for it in the next session. Which I did.
The biggest thing about the car is that new diff really allows me to lean on the thing without feeling as if I'm about to land it in the scenery. Chris curve, in particular, was amazing in that if I got the entry right I could just drive round it flat with the car obviously rotated on the road but without feeling that it was about to shoot sideways. The lap times tumbled and I did a 1:42.5.
That seemed pretty good so I tried again and then started feeling really ill. Stupidly I finished the lap and then had to drive all the way round the circuit to get to the exit. (For those that haven't been there, Cadwell is odd in that the exit is half the way round the circuit from the pitlane.) I got back to the paddock almost convinced that I was going to lose my breakfast inside my helmet which would have been disturbing to say the least.
As it was, I just about managed to keep it together. I was quite pleased with the time though. I sat out the next session as I was feeling really horrible. What's more Colin C was having to fix his gearchange, an ally bracket on it had collapsed. I spent a good time then and over lunch helping him fix it with the aid of a lump of steel cannibalised from the bars that stop the drawers in my tool box falling open.
In the meantime Anthea went off with Adrian Chapman (Colin's Dad) to find some substance that could help the travel sickness. She came back with some mumbo-jumbo in the form of wrist bands, some travel sickness pills and some ginger nuts. (The chemist apparently said that ginger was good...)
So, I put these funny wrist bands round my wrists and had a cup of tea with some ginger nuts...
In retrospect I didn't really do anything constructive in the afternoon. The circuit was a lot busier and time was taken up with helping Adrian Moore who, after having a near terminal fire at this circuit last year had just about got his car ready.
After 3 laps it threw a rod which makes you sick really...
What's more, one session was drastically shortened after Ian Grey shoved his Phaser into the barriers.
Most importantly, I seemed to be less sick. :-)
Sunday
Qualifying
The weather forecast had consistently improved over the last few days and the day looked good. After scrutineering we headed down to the assembly area and hence to the track. As the RGB classes were separated we wouldn't have the problems of class A cars catching up really quickly so I was able to manage my laps fairly well.
At one point I caught up with a huge gaggle of cars that were stuck behind Phil. Not sure why they were as there was lots of track so I just slowed down and put in a 2 min lap which got me away from them. In fact at one point I passed and got passed by Matt Rowe a couple of times, probably because he and I were doing the same thing, only out of phase with each other.
Late on in the session I caught up with Colin C. Colin regards Cadwell, in our private competition, as his circuit and has done some tuition there with Tim Harmer. He was very chuffed with his last result here which was 5th place.
So, I decided to just track him round which I did. The time was a 1:42.1 which I was aware I could improve on, especially down the Gooseneck and into Mansfield. So, I decided to try for another lap and slowed down a bit to get away from Colin. That lap was a 1:50 but then they put the sodding chequered flag out.
Sigh...
All the same, a decent session although all it gave me was two poxy 10th positions for the starting grids.
Race 1
I was on the grid just behind Pete Rope who is a general pain. He's a nice bloke but he spins all the sodding time which means racing in close proximity to him is very dodgy. So, when the lights went out I surged forward, only to have Pete nearly stall meaning I had to get out of the throttle (the start lane at Cadwell is really narrow).
As a consequence I lost out in the run to Coppice and just as I was getting there Colin shot up the inside and nearly putting me onto the grass on the outside.
Still, I was in a large group on the way round to Park where, as I was rounding it Pete did indeed spin onto the grass and promptly shot straight back onto the track right in front of me.
Did I say he was a pain?
Lots of us took avoiding action and I ended up on the grass facing the wrong way and by the time I'd got back onto the circuit I was dead last. Oh well, time to do an Alain Prost and overtake everyone.
I got round to the mountain to see Colin on the grass and he got back on the circuit right in front of me causing me another moment... Still I was right behind him and managed to get up the inside of him into Coppice. (That corner is amazing. Get it right and the car just sticks like glue.)
Then we had a magic series of laps where we overtook a bunch of people in a high speed train, all the time battling with each other. Later Judi said "you guys were really going for it" and Martin said "just how do you do that?". This was Martin's third ever meeting and this means "how is it possible for two essentially identical cars to go shooting past me so bloody quickly?".
However, we eventually caught up with Phil Alcock. Phil is proverbially difficult to get past, although not in an overtly illegal manner. I did, though, manage to get up the inside into Coppice and just couldn't feel sufficiently confident that he wasn't going to turn in on me. I had though, slowed him up and could easily have got past him at Charlies 1.
Unfortunately, Colin had the same thought and went for the same gap.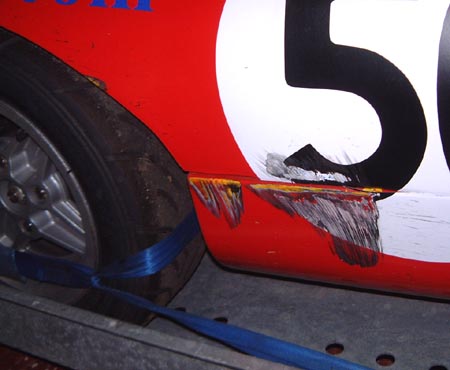 Thump!
Colin's left front hit the side of my car just in front of the right rear, spinning me by 90 degrees.